ACCOMMODATION
Several hotels around the venue
Grandee Taipei Hotel
(From hotel to venue, walk about 6-7 min)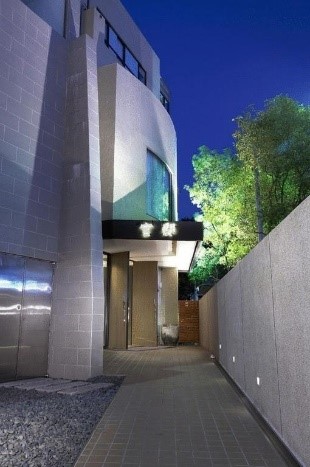 Shihlin is an old town with lots of old stories. Located in northern Taipei City, it is known for the mystery and history of Generalissimo Chiang Kai-shek's former residence, and the hustle and bustle of the famous Shinlin night market.
Shihlin always leaves impression on the many people who visit for shopping, for sightseeing, for delicious food and to explore the old stories. Grandee Hotel is located in central Shihlin, builds on the tradition of Chiang's former residence, the long white-walled entrance and the 50-year-old tree.
Grandee Hotel is located on Wenlin Rd, Shilin Dist and accross the street is the famous Shinlin night market.
It's just 3minutes to walk to Jiantan MRT Station,and it's convenient to take MRT to Taipei Main Station.
As soon as you enter the building, you will feel like walking into a designed building like art to appreciate.
Moreover, our hotel greetings from our staff will make you feel friendly and like at home in the journey.
About Shihlin Night Market: The Shilin Night Market is one of the well-organized and most popular night markets.
It is separated into two major sections. One sector covers the streets surrounding the traditional Yangming Theatre and stretching to the Chicheng Temple on Danan Rd.
The other sector is a centralized food court serving a wide variety of snacks that attract large crowds.
The market is located right across from the Jiantan MRT Station. At the Shilin Night Market, visitors can shop from store to store and have a large selection of clothes and accessories that they can bargain for reasonable prices.
Official Website: http://www.grandeehotel.com.tw/english/about.html
11163 No.102, Wenlin Rd., Shilin Dist., Taipei City 111, Taiwan

(From hotel to venue, walk about 6-7 min)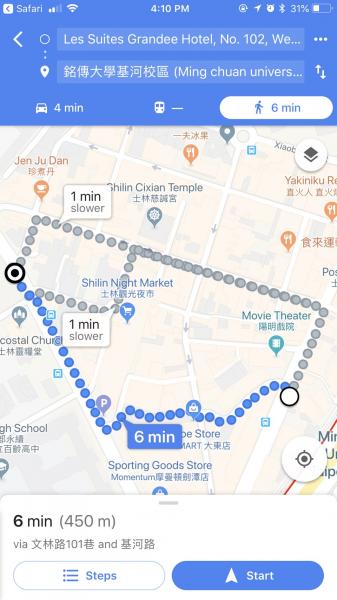 TEL:+886-2-2880-5599
FAX:+886-2-2880-5962
Check-in timel:15:00 p.m., check-out time:12:00 p.m.
---
UINN BUSINESS
(From hotel to venue, walk about 8 min)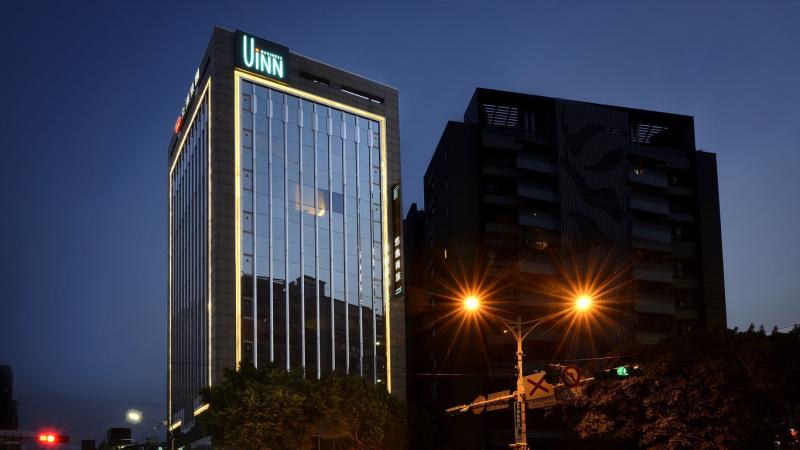 UINN is created by the YC Group as a new business under the Group. The core business of UINN includes UINN Relax, UINN Business, and UINN Travel. UINN creates brand characteristic by combining multivariate creative design, presenting considerate exclusive services, and building a brand with values of life and personality.
Committed to providing legal, safe, and hygienic environments for travelers, UINN is a hotel with high quality, exceeding the expectation of customers with excellent services, welcoming each valued customer who visits us.
The birth of the brand UINN derives from the English pronunciation of "YOU IN". The clever combination of "YOU" and "IN" hopes to give customers a sense of participation.
INN also refers to the literal meaning of "inn".
YOU IN INN means: invite U to come IN.
The life-style of UINN: Enjoy each leisure moment during travels with a relaxed and eased mind.
Official Website:http://www.uinnhotel.com/business/en/index.html
No.318, Sec. 4, Chengde Rd., Shilin Dist., Taipei City 111, Taiwan

(From hotel to venue, walk about 8 min)
TEL:+886 2 2888 3966
check-in time: 15:00 check-out time: 11:00
---
TANGO INN Taipei JiHe
(From hotel to venue, walk about 10 min)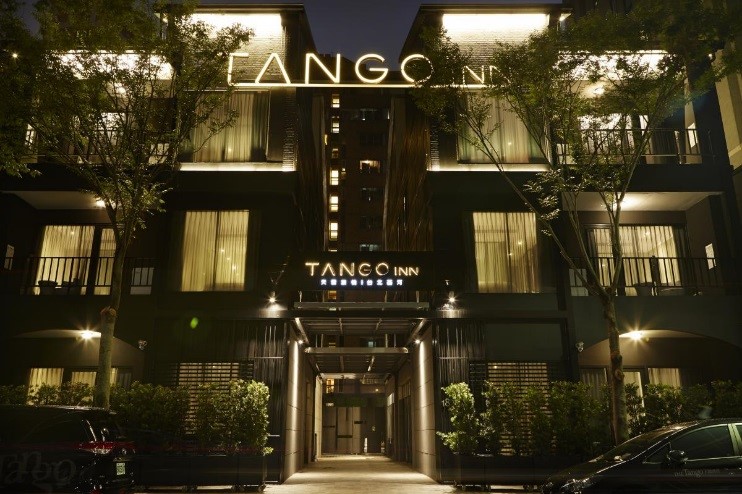 Tango Inn at JiHe, Taipei. A modern building with spacious and metallic design, a combination of bright colors and shades of black and white. A Cozy and stylish setting with comfortable bedding, shower space and 24H self-serve food & drink bar etc. A fantastic stay for vacationers.
No need for breakfast morning calls, food and drinks are provided 24H at you service.
Along JiHe sidewalk, you can enter the hustle and bustle of Shilin night market. When the night falls, you can take a stroll and make your way back to the travelers lodge.
Open up to an unexpected journey. Say farewell to the busy streets of Ximending, the East District, Taipei 101 and Jioufen. Pack light and from Jiantan station (Exit 2). Head north! You can explore the wonders of Beitou, Yangmingshan National Park, the Fisherman's Wharf in Danshui and Repulse Bay in Sanzhi.
No more hasty short stays, choose to stay a little while longer this time round. Share your daily surprises and stories with us, make us part of your travel experience here. Come!
Official Website: http://jh.tangoinn.com.tw/_en/01about/about.php
No.18, Jihe Rd., Shilin Dist., Taipei City 11166

(From hotel to venue, walk about 10 min)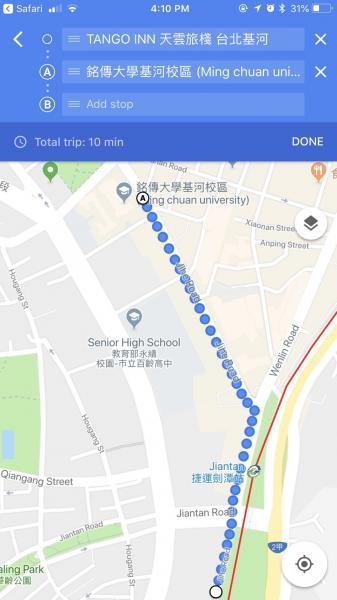 Tel: +886 2 2885 6666
Fax :+886 2 2885 1666
Check-in timel:15:00 p.m., check-out time:12:00 p.m.
---
The Grand Hotel (5 stars)
(From hotel to venue, walk about 22 min)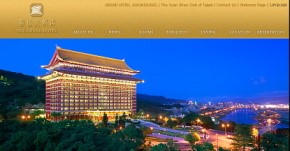 The Grand Hotel was established in 1952. Supported by red columns and with golden roof tiling, the Grand Hotel stands midway up Yuanshan, much like a majestic 14-storey palace. Facing Keelung River, with Yangming Mountain to its, the hotel offers an amazing view of Songshan District to the East and Danshui to the West. The Grand Hotel, structured through western construction methods, is decorated with elegant classical Chinese details. This fusion ofEast and West makes the hotel a fine expression of Chinese art upon a foundation of modern western architecture. No matter if visitors are tourists or business men, all those who stop by and marvel at the architectural beauty of the hotel would no doubt want to reserve for themselves a wonderful stay.
The hotel is equipped with 487 rooms which offer a birds-eye-view of bustling Taipei in the day and a serene city in the night. The timeless joy of observing a modern city in a classic Chinese guest room is simply amazing. The Grand Hotel offers a variety of dining choices, including Chinese, Western and Japanese restaurants serving cuisine of supreme quality. With our utmost sincerity, we welcome our honorable guests to enjoy a unique, pleasant stay at the Grand Hotel.
Official Website: http://www.grand-hotel.org/en/
Free Shuttle Service:http://www.grand-hotel.org/taipei/en/?Psn=5350​
No.1, Sec. 4, Zhongshan N. Rd., Zhongshan Dist., Taipei City 10461, Taiwan

(From hotel to venue, walk about 22 min)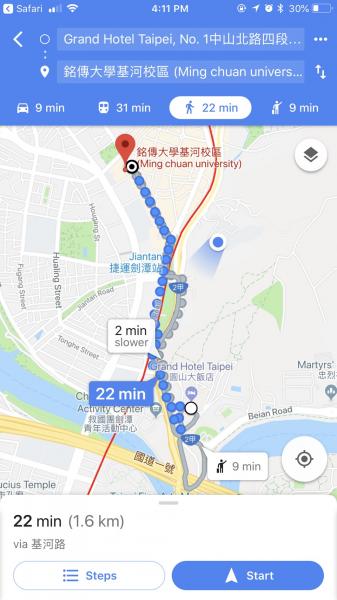 Tel: +886-2-2886-8888
Fax :+886-2-2885-2885
Check-in timel:15:00 p.m., check-out time:12:00 p.m.
---
Regent Taipei (5 Stars)
(From hotel to venue, by taxi about 10 min )
With the goal of being a luxury hotel that exceeds the expectations of distinguished business travelers and local patrons alike, Regent Taipei is located in the heart of the city's most vital financial, shopping, entertainment and cultural districts. The hotel is 45 minutes from Chang Kai Shek International Airport, 15 minutes from Taipei Song Shan Airport, and just five minutes walk from Chung Shan MRT station.
Regent Taipei has 538 of the most spacious and attractively designed rooms in Taiwan. Standard amenities include the pressure relieving Wellspring Bed, a pillow menu, feather duvet, large marbled bathroom with deep soaking tub and separate shower, 24-hour room service, wireless Internet, satellite TV, stereo, in-room safe, and mini-bar. On the top floors of Regent Taipei is TAI PAN Residence & Club, an all-butler hotel that coalesces the traditional Oriental milieu with contemporary comfort, where one can Experience Modern Chinese Lifestyle. Also found in the hotel are the Wellspring Spa urban resort, the state-of-the-art Health Club & Sauna, complete meeting and banqueting facilities, a rooftop pool, the Regent Galleria that provides a world-class shopping venue to cater to the needs of global luxury travelers, and eight world-class restaurants that offer traditional and innovative cuisines.
The supreme services and facilities of Regent Taipei make it the only hotel in Taiwan to appear on Conde Nast Traveler's Gold List of "World's Best Places to Stay" for two consecutive years.
Official Website: http://www.regenttaipei.com/en/
No. 3, Ln. 39, Sec. 2 Zhongshan N. Rd., Taipei 104, Taiwan

(From hotel to venue, by taxi about 10 min )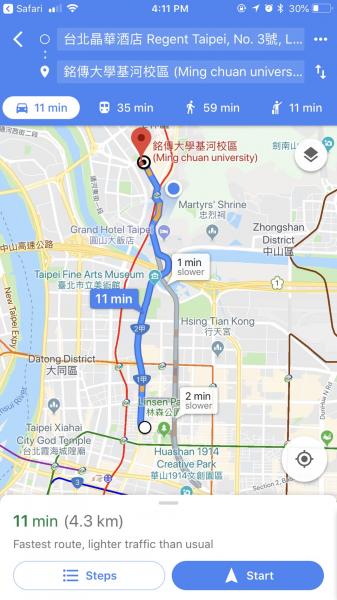 TEL: +886 2 2523 8000
Check-in timel:15:00 p.m., check-out time:12:00 p.m.